Oct 6th 2014 - Free Cheoy Lee 1977 Clipper 33 for restoration project, engine and sails serviceable, has been out in weather for years but hull in good shape. Located in Quincy, Mass. Contact Jerry for pictures and details.
G.P.Connors SAMS AMS#969, HMC&E
GPC Engineering
Email: gpcent@comcast.net
Tel: 617 471 4503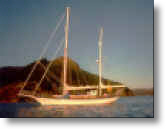 Cheoy Lees Clippers
Designed by A.E. Luders
The August issue of "Cruising World", in their article on good buys in used boats, listed the Clipper 36 as a great bargain. Jeremy McGeary says in the article "Who'd have thought that boats would hold their values better than some stock portfolios? Here's a selection of such classics that have proven their worth and will provide shelter and stability to the not yet (or no longer) rich." About the Clipper he says "Any pushover for a clipper-bowed ketch is going to fall hard for this Bill Luders beauty..."
---

Clipper 48 "1976"
"S/V Hemingway's Whiskey" Located in the Marathon Florida

Not many of the 48's were made. This is the first one offered for sale on the association's website, James
---

Clipper 42 "1973"
"Lachesis" Located in the Sardinia
SOLD 7/14
---
John Alden Design's

Alden Offshore 50 "1969"
'Orient Star' Located in Long Beach, Calif.
New Listing 11/2011, well maintained and one owner
SOLD 9/14

Alden Offshore 50 "1970"
'Lady Pirate' Located in Florida
Huge price reduction Oct 2014

Richards 38- "Ampersand"
New Bern, NC
New Listing, June, 2014

---

Pedrick 43 - "Sea Lion"
Essex CT
New Listing, Sept, 2013
Yes this is David Toombs Cheoy Lee and is ready for cruising, only 12 made Sold
---

63' Motorsailor
"Fantasy", located in South Florida
New Listing March 2013
---
Bermudas

Bermuda "1965"
"Hong Kong Maiden"
Located in Miami, Florida
$2,500
---