History of the Cheoy Lee Company
The Cheoy Lee Company has been a major builder of ships and all types of boats for over 100 years. With roots tracing back to 1870 in a building at a repair yard in Po Tung Point in Shanghai, Cheoy Lee Shipyards has had a colorful and successful history. Originally producing wooden commercial craft from a shipyard in Shanghai, Cheoy Lee moved operations to Hong Kong in 1936. Initially specializing in the production of powered cargo vessels to outrun the Japanese blockade, Cheoy Lee later diversified into the large scale production of teak sailing and motoryachts. Most of these were exported to the US. During the 50s trawlers were built for the United Nation Korean Reconstruction Agency. During the early 1960's, Cheoy Lee made steady progress in the development, testing and use of fiberglass and by the mid 1960's wood construction had been phased out. Cheoy Lee became one of the first shipyard users of fiberglass and in turn became one of the pioneers of GRP/foam sandwich technology in the marine field. According to David Toombs from Lion Yachts "over 4,500 Cheoy Lee yachts were delivered and he points out that it is interesting that usually no more than 50 or so are available at any given time on the market". He also points out that Cheoy Lee has stopped production for all designs under 50' due to worldwide demand for the larger motorsailers and motoryachts. For the record David claims to be the original Cheoy Lee Distributor dating from 1960 and made over 70 trips to Hong Kong spending over a year in the shipyard there monitoring all phases of construction. He goes on to say that in its over 110 years of family ownership Cheoy Lee has become a major factor in yacht building, fully Lloyds Approved, with a modern climate controlled facility. David probably knows more about Cheoy Lees than anyone else in North America.
Today Cheoy Lee makes everything from ferries to tugboats and several models of large motor yachts up to 446 tons and 144' in length. The only sailboats currently produced, as far as I am aware of, are the 53, 63, and the 78' Motorsailors plus a 77' Pilothouse Cutter.
---
The following information submitted by Tom Gilson from Cheoy Lee North America 11/99
A few things you may want to know about the company. The company's main production facility is currently located on Lantau Island, which is also
where Hong Kong's new airport recently opened. Cheoy Lee recently acquired a new shipyard facility on the Pearl River 60 miles from Hong Kong on mainland China. (The old facility will be closed in April of 2000 as Disney World moves in). This facility is reached via high speed ferry from Hong Kong, with customs and immigrations located next to the yard. The new shipyard is at the center of over 20 shipyards. Consequently, there is a huge pool of skilled labor in the area with an almost unlimited capacity to expand. A state-of-the-art facility is now in operation, including a 1,000 ton railway lift, a 150 ton travel lift, dedicated paint sheds and on-site dormitories that will house up to 400 yard employees. Capable of producing vessels in excess of 200 feet, the new yard promises to keep Cheoy Lee in the forefront of shipbuilding for generations to come.


This pic looks like masts being worked on
---
Following email from Larry Kaplan
Hi. I commissioned all the boats that came to San Francisco (new). The dealer was Raccoon Straits Yacht Sales. Offshore 27's ,31's,41's and the offshore 50. I had just graduated from college, and had been working on yachts while in school, was on the sailing team, etc. That was 1968. I (we) drove a La Paz 33(powerboat) to the freighter anchored in S.F. bay from which would be offloaded the Cheoy Lee or Cheoy Lees we were to take possession of and we'd either motor them or tow them to S.F. or Sausalito and begin whatever it took to get them ready for their owners. On many, the teak and holly cabin sole hatches were floating in two feet of fresh water (rain water)...the boats were lashed on deck of the freighter(s) for the trip to S.F. Sometimes, the boats would simply be covered...I mean COVERED with grease and tar because the freighter's crew would "LUBE" the ship's rigging on the trip, and in the sun the petroleum based goo would soften and plop from where it was meant to be, to the freighter's main deck, only to be intercepted by the cosmic forces that directed said "GOO" all over these absolutely gorgeous varnished little yachts. I pioneered the use of linear polyurethane on yachts in 1971...and do (now) custom fiberglass work and repair on yachts. In spite of what I know about the Offshore line that Cheoy Lee produced, I have a particularly special place in my brain for those boats. I happened upon your site ...I guess by serendipity.
larry kaplan
p.s. the rainwater? you don't think that the freighter's crew would have
removed the plug at the keel, do you?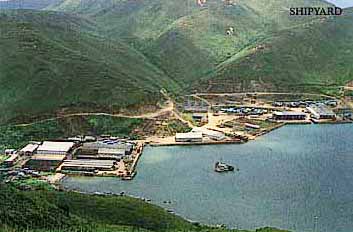 The following was submitted by Wayne S.. sailing "Sumatra" a Frisco Flyer, thanks Wayne for the info, we all appreciate your imput, james...

Hello, James--
May I pass along some information on Cheoy Lees? It may be commonly known; I really don't know. I have heard some of this from various sources, and all of it from a man who worked in the Cheoy Lee yard in 1963, overseeing the construction of a large yacht for a wealthy American buyer. Do you know anyone who could give us any further verification?
With some Cheoy Lees (the glass Frisco Flyers, for instance), the hulls would be built in one spot in Kowloon and then launched and towed to another location where they would be finished out with interior, deck, etc. (I doubt the same was true of the wood ones.) The reason: the boat shops where the glass hulls were built had to be dehumidified. When the boats were finished out, the work was done by families who made their living as boat builders, and if the boat was large enough the family might move aboard until the work was done. (Most certainly this was NOT done with the little Frisco Flyer hulls, which were built by a large number of men who would arrive at work in the morning and leave in the evening, at closing time.) There was no electricity as of 1963 in this second yard, and any milling of wood, joinery, etc. either had to be done somewhere else or done by hand on site.
Most of the hulls had intricate carvings of dragons in their interiors. The families which built the boats would make their dragon carvings different in large ways or small to indicate which family had built that boat.
Since then I have heard this last detail said about boats built in other Kowloon yards-- but I've only had some verification of it for the Cheoy Lee yard.
A famous cruising couple in the fifties and sixties was Al and Marjorie Patterson. Al Patterson died of cancer some years ago; Marjorie published a book, a great read, titled "Red Skies at Night," before her death a few years ago. The book includes a page or so on the Cheoy Lee yard, which was near a yacht club which they visited. (Not many details.)
Well... hope I am not boring you with things well known--

Best-- Wayne


Pics of Cheoy Lee Yard from old brochure


Teak log pile in Cheoy Lee yard,
one of these logs may be part of your boat...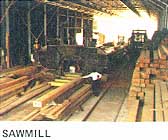 Couple of old yard pics submitted by Sunny Soquel



The Following submitted by John Spears aboard "Moon Beam" from the following:
Advertisement in Sea Magazine - 1972
When knowledgeable sailors come aboard one of our Cheoy Lee yachts for the first time, they are invariably amazed at the lavish use of Burma teak, the unsparing attention to detail and the overall craftsmanship throughout.
But they are even more amazed when they ask the price, and find it to be unbelievably lower than expected.
Of course, there is really no inscrutable mystery behind our prices. Just some highly scrtutable Orientals.
Cheoy Lee's 90-year-old 1500 man shipyard is located on the bustling Hong Kong waterfront, where it is possible to cut many costs in the construction of fine sailing yachts, without cutting corners in the overall quality.
The truth is, no one could sell these yachts at these low prices if they were built domestically.
(The man-hours on a Cheoy Lee yacht, for example, are about ten times greater than those spent on comparably-priced American Boats. And while the cost of Burma teak is highly reasonable to us, it would be highly unreasonable by the time it were shipped to the States for use on domestic boats.
Cheoy Lee passes these savings on to discriminating sailors in a truly extensive line of fine sailing yachts, all of moulded fiberglass and built exactingly to Lloyds 100A1 specifications.
The standard models of all Cheoy Lee yachts are loaded with unexpected standard features that spell the true difference between a "boat" and a "yacht".
Natural Burma teak (which needs little maintenance and is for all practical purposes immune to decay and worms; teak neither swells not shrinks to any appreciable degree and owners should enjoy the teak overlays and joiner work which requires very little care); hollow noiseless sitka spruce spars; Formica galleys; stainless steel or chromed bronze deck hardware; Wilcox Crittenden toilets; large seacocks on all thru-hull fittings; and deluxe instrument panels.
These are only a few of the standard features you'll find on Cheoy Le yachts. And there are many custom features that can be added, again at prices far below what you might expect to pay.
Cheoy Lee Sailing Yachts. If they weren't built in Hong Kong, we honestly could not afford to sell them at prices you could afford.